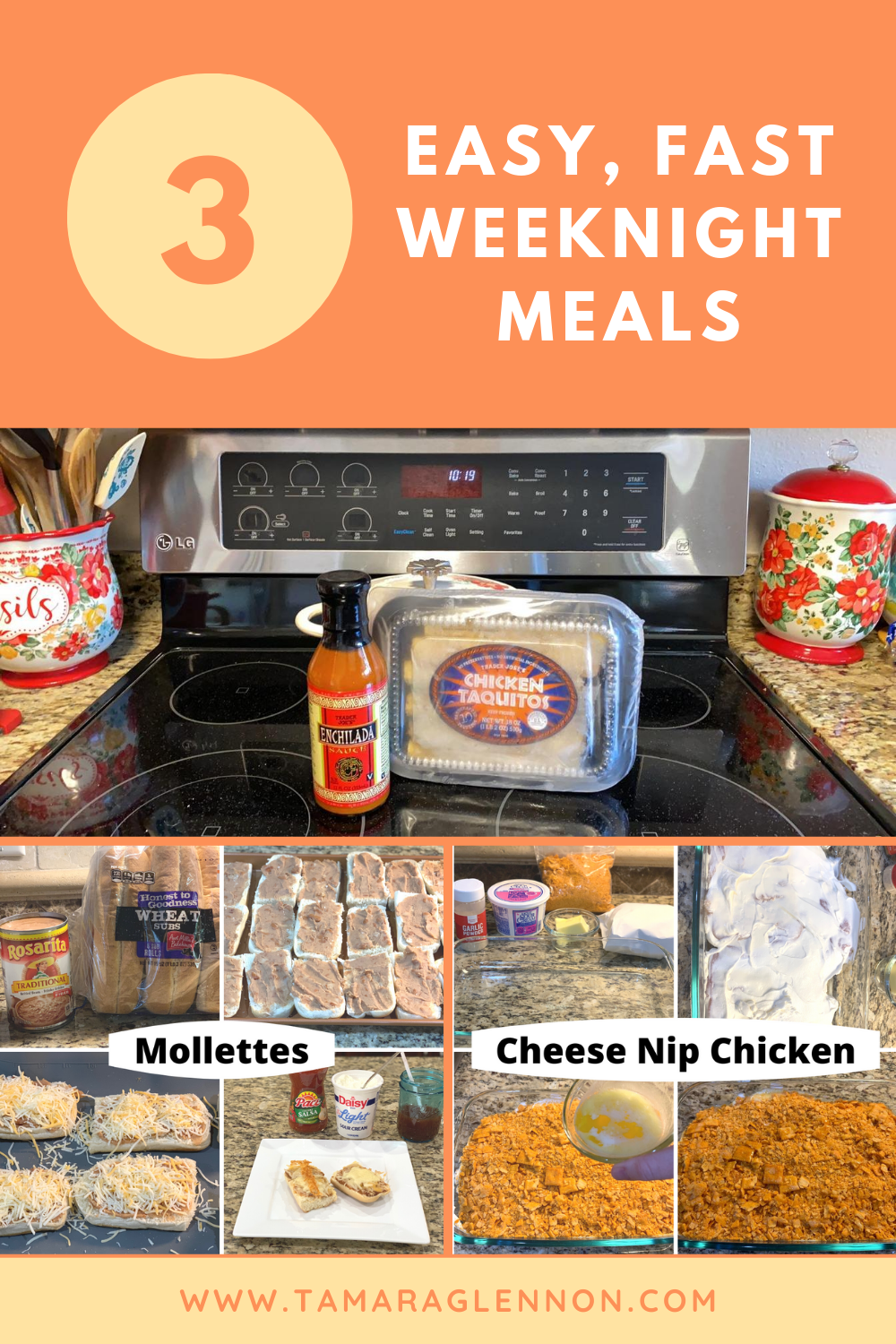 Schedules, kids, work, chores, school and so much more. The list goes on and on. We as moms are more busy than ever. Lucky for you I have 3 easy meals that you can add to your weekly rotation so that you aren't spending more time in the kitchen than you need to. Hey, if you love being in the kitchen then this may not be the post for you. LOL
Meal option 1
When I was growing up this meal was a staple in our house. It is cheap, it is fast and it is easy. Win Win. This recipe came from a lady that worked with my dad. Mollettes. This dinner is a fan favorite in my house and actually my 12 yr old's most requested meal. It literally takes 10 minutes to put together and maybe 10 minutes to cook.
Ingredients:
4-6 "hoagie" rolls, baguettes, sub rolls (this is what I use), or baguetttes cut in half lengthwise.
1 can of refried beans
1 bag of shredded cheese (can be cheddar, Mexican blend, pepper jack, mozzarella)
Seasoning of your choice (we use garlic powder and season salt. Goya would work well too)
Toppings:
Sour Cream
Salsa
How to assemble:
Preheat oven to 350
Place sub rolls flat side up on a foil/parchment/
silpat
lined cookie sheet.
Spread refried beans on each roll
Sprinkle with seasoning of your choice
Top with shredded cheese (no exact measurement. We love cheese so I'd guess maybe a 1/4 cup on each roll)
Bake in the oven for 8-10 minutes until cheese is melted and beans are warm
That is it! We put sour cream and salsa on top of our Mollettes.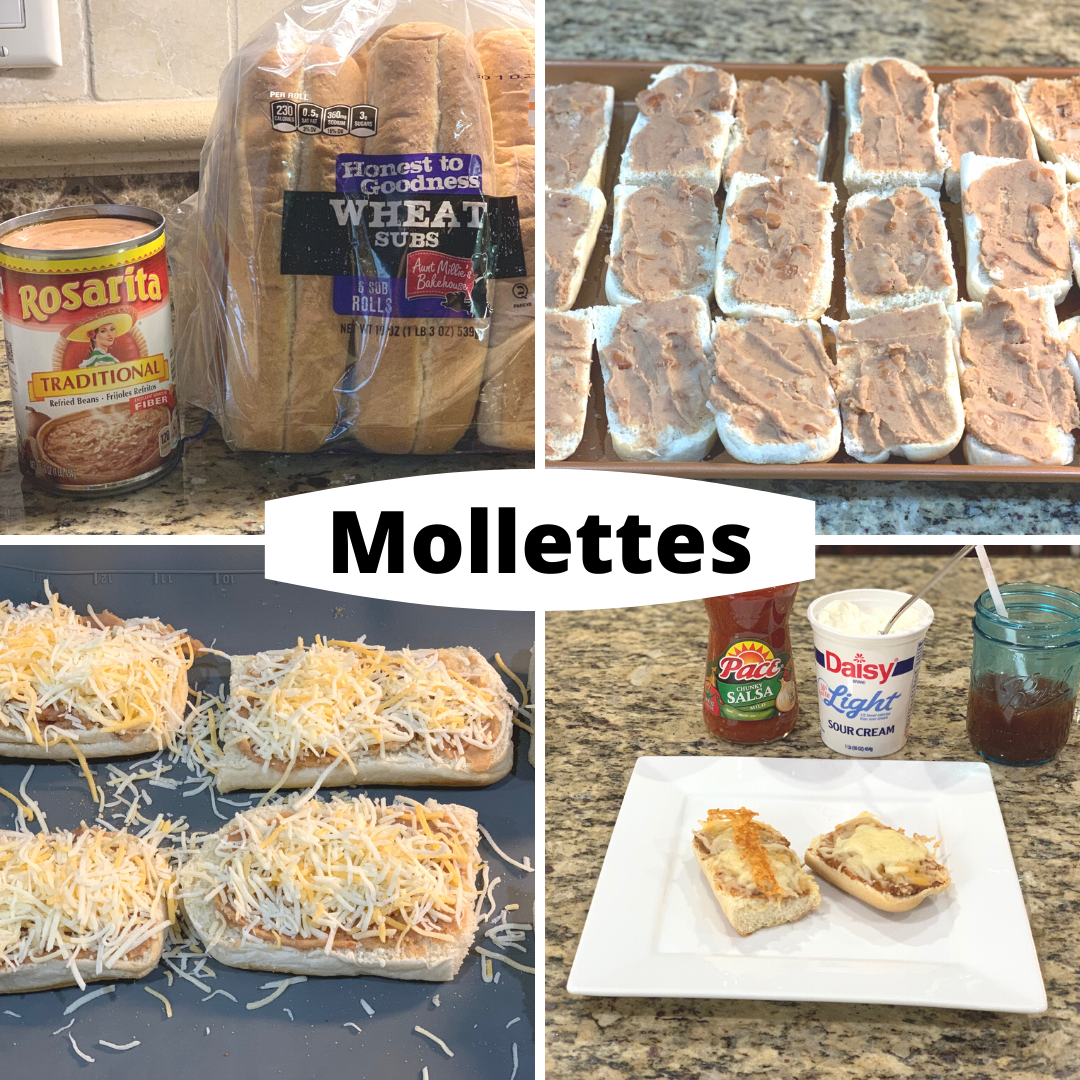 ---
Meal Option 2
Another staple that I grew up eating and still make it to this day for me kids. This particular recipe is most frequently requested by my 17 yr old daughter.
Cheese Nip Chicken
Ingredients:
1-2 pounds thin sliced chicken breasts (can use raw chicken tenders as well)
1 box of your favorite cheesy crackers (can be cheeze-its, cheese nips)
1 container of sour cream
3 tablespoons of butter melted
Your favorite seasonings (we use season salt and garlic powder)
How to assemble:
Pre-heat oven to 350
In a 9x13 glass baking dish lightly spray with non-stick cooking spray
Lay chicken in baking dish
Spread with sour cream
Sprinkle with seasoning
Empty cheese crackers into a gallon zip lock bag and let your kids crush the crackers
Pour crushed crackers on top of sour cream chicken
Drizzle melted butter on top of the cheese crackers
Bake for 20-25 minutes or until chicken is cooked through
Voila! We like to serve our cheese nip chicken with fresh green beans.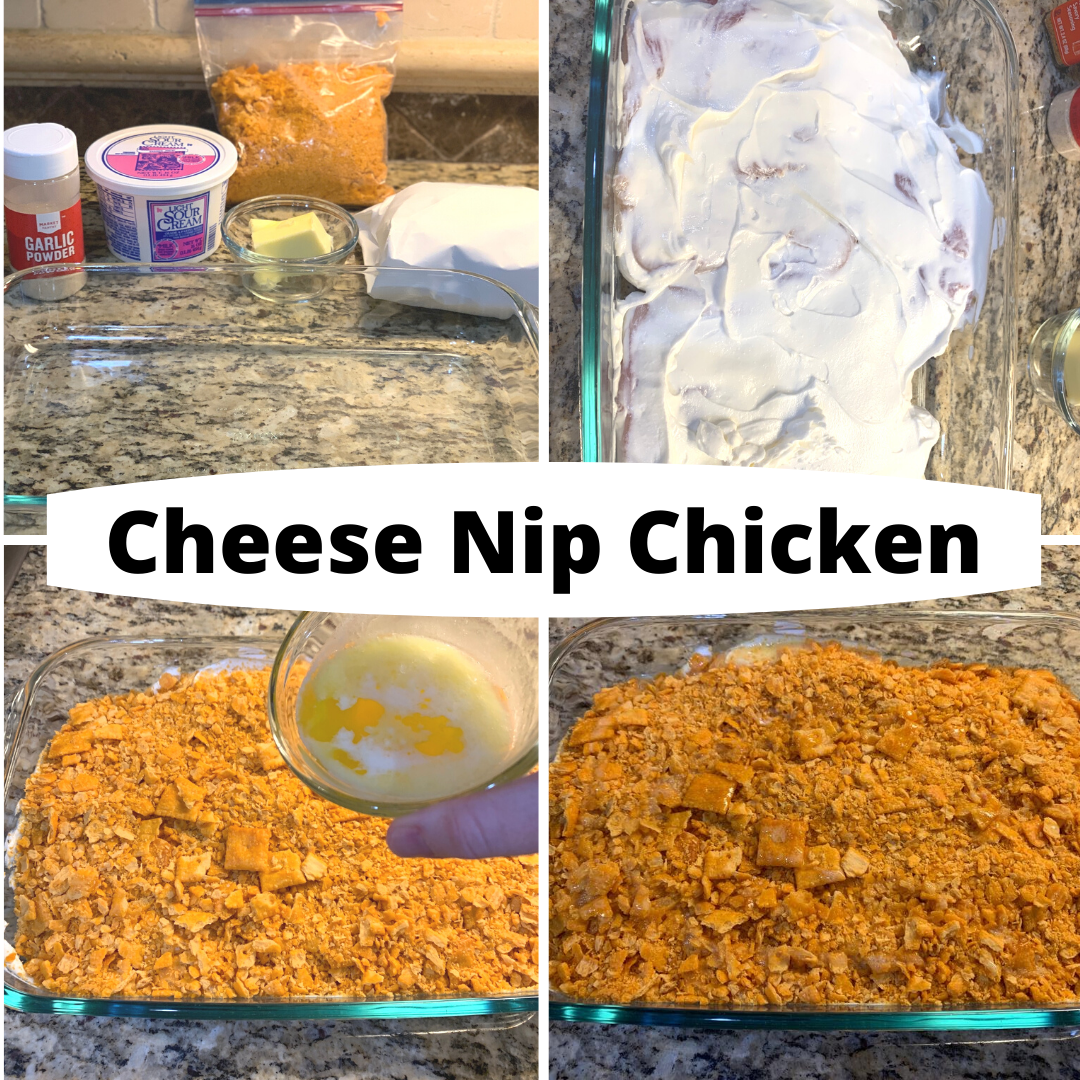 ---
Meal option 3
I found this recipe from a gal I followed on instagram. I unfortunately can't for the life of me remember who it is. If I find her I will certainly update this post to give her credit.
Who doesn't love trader joes?! This is also another quick 3 ingredient meal. Literally THREE ingredients!
Trader Joes enchiladas
Ingredients:
1-2 packages of Chicken and Cheese Taquitos
1 bottle of TJ's enchilada sauce (out of the many enchilada sauces I have tried this is hands down the best. It is not spicy and all my kids love it. It has a great flavor)
1 package of Shredded cheese
How to assemble:
Preheat oven to 350
In a 9x13 glass baking dish lightly spray with non stick cooking spray
Pour half of the enchilada sauce on the bottom of the dish
Lay the frozen taquitos on top of enchilada sauce
Top with the remainder of the enchilada sauce
Top with cheese (we love cheese so I usually use at least half of the whole package for my family of 6)
Bake for 15 minutes until cheese is melted and taquitos are hot.
That is literally it! We eat this meal on sport nights or when I just don't feel like cooking. All my kids love it.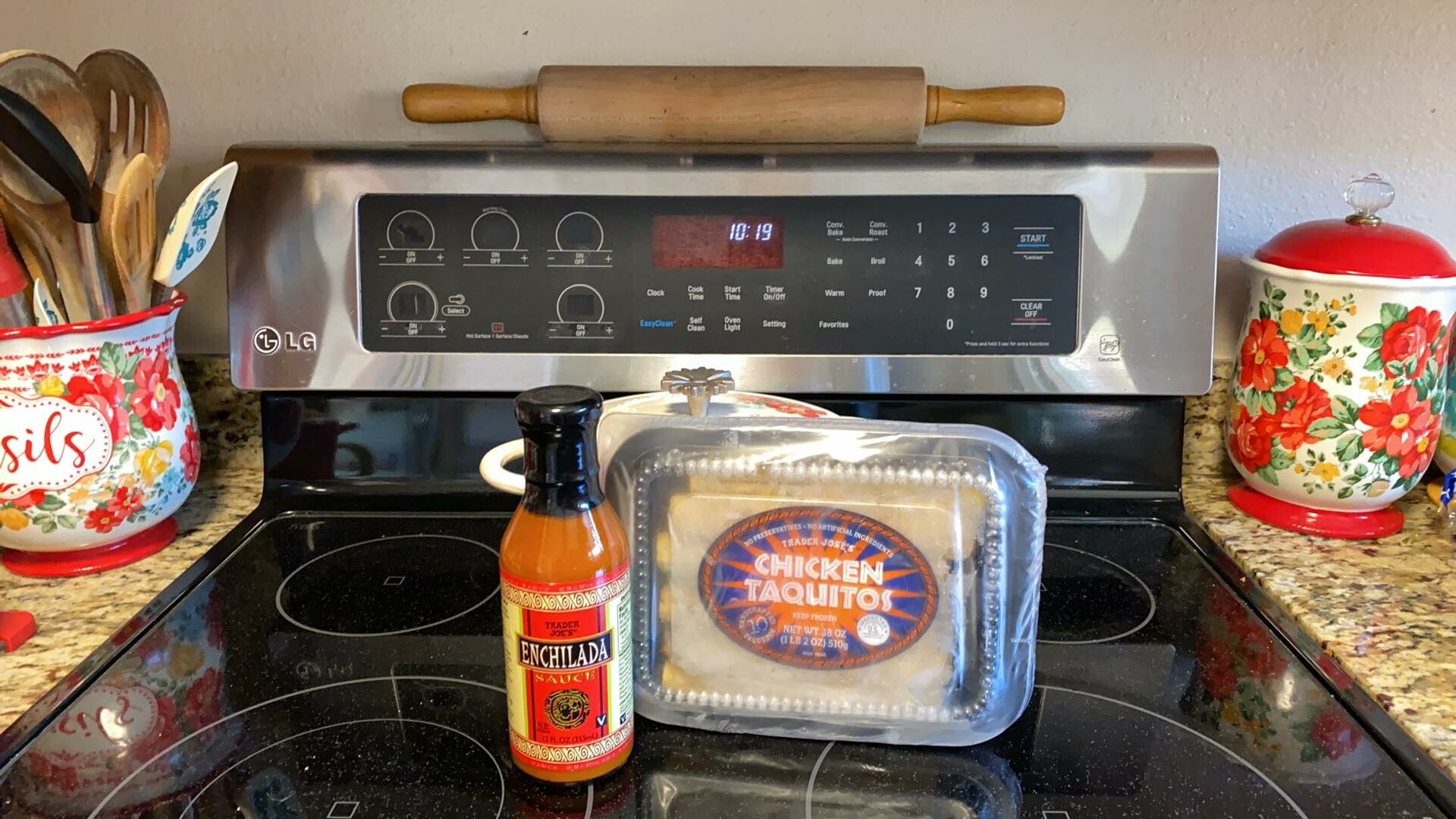 ---
That is it. Mollettes, Cheese Nip Chicken and Trader Joe's Enchiladas. The three amigos. The meals I feed my family on the cheap. If you think your friends need some dinner information, I'd love for you to share.
Follow me on Social Media:
Join my
group
to learn more about how to support your mental health and well being.
Love the gram? Follow
here
.
Jumped on the Tik Tok Trend? Find me
here
Want to shop with a purpose? Check out my
etsy shop
where I donate to Project Semicolon.